On August 19, an educational forum on aerial and satellite imagery available for Rhode Island was held at the University of Rhode Island's (URI) main campus with the goal of informing attendees on a variety of online resources for image data of Rhode Island, with a heavy emphasis on RIGIS and the US Geological Survey (USGS); this forum also highlighted the new suite of ArcGIS Image Services featuring RIGIS data that are being developed by the Rhode IslandView.
There are three ways to download imagery from RIGIS. The majority of RIGIS imagery is available as tiled GeoTIFF and JPEG2000 format files, however historical imagery is available as tiled MrSID format files (although these will be transitioned over to JPEG2000 files in the future).
Download individual imagery tiles using an interactive web map. These can be accessed from each imagery description page, and allow users to search by address to easily zoom to an area of interest.
Download tiles on a municipal basis. This allows users to select a town and download all tiles with the assistance of a download manager program, such as DownloadThemAll!
Download the entire imagery collection with the assistance of a download manager program. This option is ideal for users interested in working with statewide imagery; however this option requires adequate storage space as most collections are very large.
Currently RIGIS shares imagery online as tiled map services. These are essentially static "pictures" of a map containing GIS data using ArcGIS technology. Map services are drawn when requested by the user, they are great for real-time display, and if cached, provide a quick way to serve imagery up on the web. The majority of RIGIS map services are hosted "in the cloud" making them faster and more reliable (e.g. if there is severe weather and power at URI goes down, you can still access these services).
There are two ways to access RIGIS ArcGIS Online Tiled Map Services:
Via ArcGIS for Desktop.

From the Add Data dropdown, select "Add Data from ArcGIS Online…"
Type RIGIS in the search bar, and press enter.
Locate your year of interest from the results. You can view more details about the service by clicking the details button, or you can add it directly to your map. See below.

Via ArcGIS Online.
*Note: This requires a user account! This can be through your organization, or it can be a FREE user account. For information on how to sign up for a free account, visit this blog posting.

Sign in to your account.
Once signed in, click Map from the top toolbar.

When the Map page opens select Add > Search for Layers.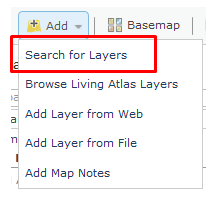 Next, in type RIGIS in the "Find" search bar, and press enter. Make sure that the "In" option is set to ArcGIS Online.

From the results list, select and click the Add button to add the layer to your map (this changes to Remove once you have added a layer). When you are done, click the Done Adding Layers at the bottom of the dialog.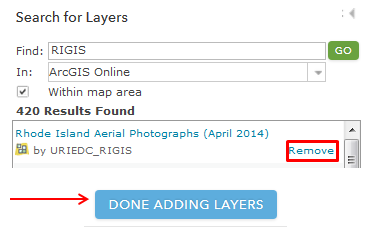 These map services are in the process of being retired and replaced with ArcGIS Image Services by Rhode IslandView.
Image services are another way of sharing raster or imagery data through an online web service. Image services allow users to work directly with the data by changing the appearance of the data (e.g. band combinations to view near infrared when conducting vegetation-related studies), have great print quality and allow users to download the data. Although image services are not hosted in the cloud, and can be slightly slower than tiled map services, the degree of functionality they provide makes them the number one choice for using and accessing online imagery.
This transition will occur sometime later this fall, and the RIGIS community will be alerted to any and all changes via the RIGIS-L listserv.