The Gridded SSURGO (gSSURGO) is a complimentary product to the traditional SSURGO data made available the USDA-NRCS. All attribute tables associated with traditional SSURGO data are contained with the gSSURGO database. These data are stored in an Esri File Geodatabase and are easily combined with other national raster datasets such as the National Land Cover Database (NLCD) or the National Elevation Dataset (NED), to name a few. Because file geodatabases offer the capacity to store much more data, the gSSURGO covers wider spatial extents than traditional SSURGO data, giving the NRCS the ability to make these data available as statewide, or even Conterminous United States (CONUS) tiles.
The USDA-NRCS has a great description page dedicated to the gSSURGO data. Here users will be able to read a much more detailed description of what the data are, some release notes for the FY2016 version, informaiton on National Value Added Look Up Table database, metadata information, recommended citations, techincal information and ordering information.
Since RIGIS offers up-to-date Soils data contributed by the Rhode Island USDA-NRCS office, we will not be hosting the gSSURGO database for the state, however interested users can easily download these data from the USDA-NRCS Geospatial Data Gateway following the instructions below.
1) Click the Get Data button on the right side of the page (see below).
2) Select Rhode Island from the drop down menu.
3) Highlight all Counties (hold SHIFT and left mouse click), and click the >> button (see red box below) to select all counties.
4) Click the Submit Selected Counties button (see purple oval below).
Note: This will generate a popup notifying you that it might be better to download the data by state instead of counties, however for the purpose of this blog I felt it would be best to show the county-based download option.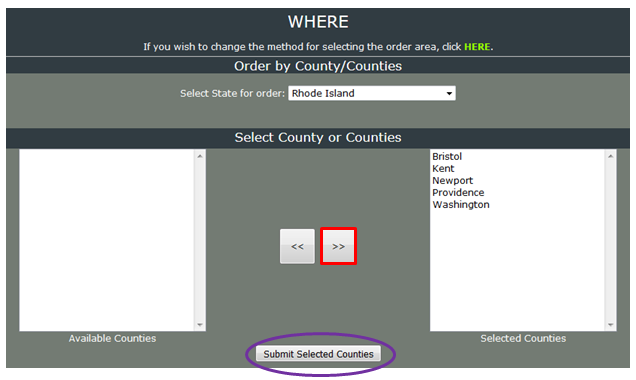 5) From the selection list that appears, scroll down until you see the heading "Soils" (this will be towards the bottom of the list).
6) Check off the box for "Gridded Soil Survey Geographic (gSSURGO) by State", and click the green continue button at the bottom of the page (see below).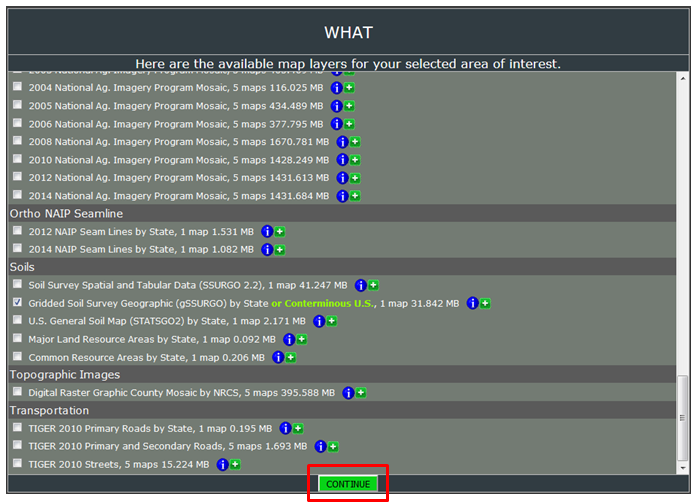 7) On the next page, ensure that you have the FTP download option selected at the bottom of the page; this is the FIRST option. Click the green continute button.
8) Complete the contact information form on the next page and click the green continue button to review your order.
9) Once you have reviewed your order, click the green place order button on the lefthand side of the page. Your data will then be processed and emailed to you with a download link.